Call park is a feature that allows a person to put a call on hold to a 'parking bay' continuing the conversation from any other telephone within the company or specified groups within your company (eg sales, finance, etc). Our parking supports 'dynamic' parking where we assign calls to the next available slot, or alternately 'directed' park where the first caller can statically assign the call to a static parking bay.

Log into your account.

Select Switchboard.

Select your number.

Select Advanced.

Go to Call Parking.

Insert your information.

Click Save to update your settings.

First extension: By default, our function will take the next available BAY in the garage. If for example, your first BAY 700 has a parked call, then Call Parking automatically takes BAY 701.

Parking slots: You can determine the number of slots following the First extension (eg setting to 10 slots provides 701-710).

Parking time: Number of seconds a call can be held in the park.

Return to call: Send the call to the original extension or set Call Forward and select a number.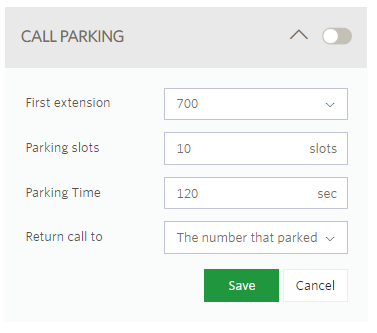 Parking and Retrieving

To park: Type *07 and the Parking Attendant will confirm your parking slot. (eg slot 701)
Retrieval: To retrieve the call from the bay dial 1 followed by the bay number eg *1701.

Setting up Parking your Yealink DSSKeys

To set up the Park key you'll need to use the DTMF Type of key and the value is *07.

To set up a key to Pick" up the calls you'll need to add it as a Speed Dial key. You'll add it using the parking slots (eg *1701 and *1702)
See the example setup below: